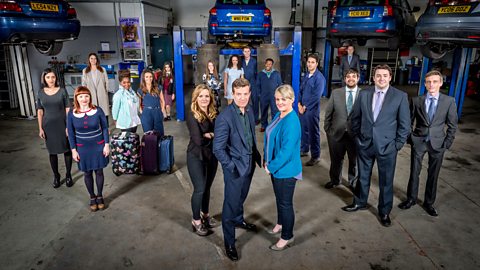 BBC Ordinary Lies - Photo credit: BBC
I'm nice and on time this month with my March favourites! And this time, it's a random bunch of things I was really liking in the month of March and not just beauty product focused. Enjoy :)
Ordinary Lies - BBC programme
This programme is very new on BBC One and has only broadcast three episodes so far (there's still time to catch up on iPlayer!) It follows the personal lives (and lies) of colleagues who work at a car showroom in Manchester. Definitely well worth a watch and great Tuesday night TV!
Pizza Express
I've been quite a few times in March and love it! My favourite dishes include: Dough balls, Leggera Superfood Salad, Giardiniera pizza, Fiorentina pizza and the Pollo Pesto Chicken pasta. Can you tell that I have been to Pizza Express A LOT?
Swedish back massages
I had my first ever Swedish back, neck and shoulder massage and it was amazing! I usually have aromatherapy and gentle back massages when I go to spas, but I thought I would try something different and the Swedish massage was great! It's great for de-stressing and relaxing those tense muscles in your back and shoulders.
The Body Shop Skin Primer Matte It
http://bit.ly/1CqcjbG
I've never used a primer before applying make up and lots of bloggers always rave about how great primers are and how it helps your make up to last longer. So, I decided to get myself a primer and The Body Shop's Skin Primer Matte It was a perfect first primer for me to try. It's working great so far and sometimes I even use it when I'm not wearing make up as it helps my skin to look less oily.
Maybelline Eraser Eye Concealer
http://tidd.ly/3b485daa
This is good as a highlighter as well as a concealer. I use it under my eyes as well as on the bridge of my nose, my forehead and chin - great for those 'no make up' days.
label.m Sleek Blow Out Cream
http://bit.ly/1aXXzrF
I purchased this at London Fashion Weekend back in February, but have started using it properly in March. It's a great alternative to heat protection sprays which I normally use as I simply apply this cream to damp hair and then blow dry and straighten it.